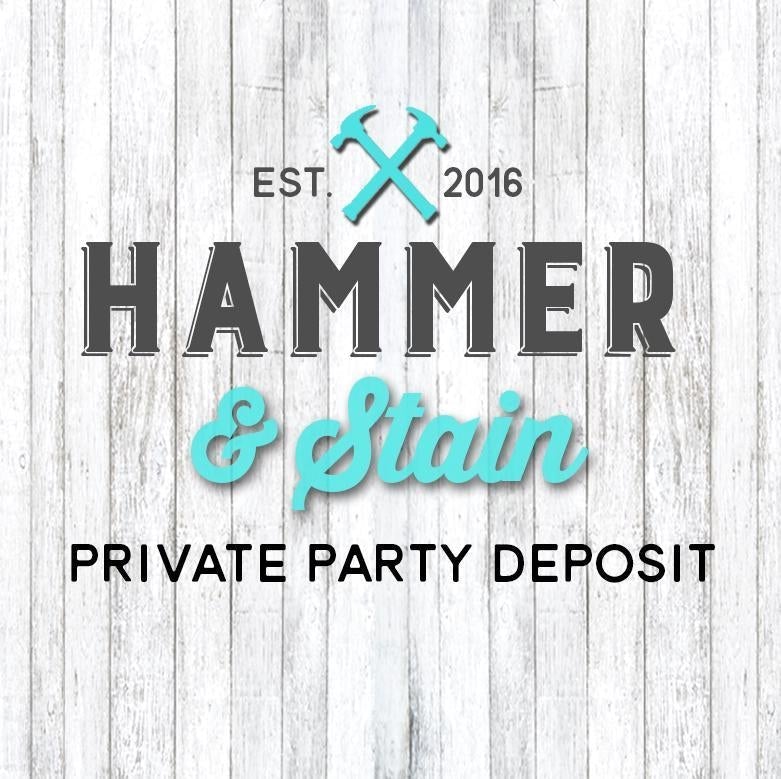 10/11/2023 - IVEX Party Deposit
Hammer & Stain Sidney
This date is open for scheduling a private party. In order to secure this date, you must submit the $75 deposit.
As the hostess, you are responsible for inviting guests and making sure they register by your workshop deadline. The deadline for ALL guests to register is 10-14 days prior to your event. 

If you cancel or reschedule your party for ANY reason your deposit will be forfeited.
A $75 deposit is required for a private party. This ensures you have the studio space to yourself to enjoy the workshop. Rather than having a minimum number of people, we require a minimum group total of $350 Wednesday - Thursday and $500 Friday - Sunday. If the minimum sales are not met, you will forfeit your deposit. If totals are met, and after the party is held, your deposit will be refunded.
Private Workshops will have exclusive access of our workshop for 2.5 hours on the date and time you have secured. ALL guests that plan to attend MUST register by the deadline. Only those who have registered can enter the studio so please be sure everyone registers. 

Everyone attending your workshop MUST BE 18 years of age or older unless other arrangements have been made. 
Once someone has registered and picked their design no changes can be made. Please make sure everyone understands this. Once your deposit has been paid, our workshop coordinator will contact you to go over project choices and set up your exclusive registration link. 
Regular price $75.00 Sale
Terms
Once your order has been submitted we are immediately beginning the process of production of your personalized stencil. Due to the customizations of ALL of our workshops, there are no refunds for workshops. However, if you cancel with at least 48-hours notice your FULL reservation fee will be turned into a store credit that can ONLY be used for future workshops or retail in our store. Same day cancellations or no-shows will not get a credit for a future workshop. Please call us at 937-507-4054 or email at hammerandstainsidney@gmail.com to cancel. If you do not show up for a workshop that you have reserved a spot at, you forfeit your payment. If you have to cancel we can hold your project for up to 60 days for you to come in and complete at one of our Open Paints/Studio times, or your project can be turned into a Hammer @ Home Kit for you to bring home and complete.